Resistance
and collective organization
Over the years, the project has been gaining prominence, causing impact and creating new logics for the community, which has led to significant implications for the people living in the area, the LGTBIQ+ people and the feminist movement as a whole.
Consolidation of a place of reference
Succeeding in getting a regular place and regular times for training on the most iconic field (Güemes) represents the pinnacle of collective strategies aimed at fighting against stereotypes and prejudices related to a sport and a space that historically belonged to men.
Creation of a stable football team
In 2009, we took part in "Liga de Fútbol para la inclusion social" ("Football League for Social Inclusion"). In 2010, 2011 and 2012, we participated in the Homeless World Cup held in Rio de Janeiro, Paris and Mexico D.F. We also took part in the Beyond (B)orders Festival in Berlin in 2015 and Equal Playing Field in Lyon in 2019, among other tournaments and competitions in the region and in our country.
Group empowerment
The workshop has contributed to the personal and intersubjective growth of the participants in such a way that they have embraced it as a place where they can create new languages, bonds and identities, processes in which they have developed a leading and autonomous role.
La Nuestra as a seedbed of players
The consolidation of football practice, both territorially and symbolically, has boosted a seedbed for players. Therefore, around 60 girls and 30 teenagers have been participating in football practice and competitions specially designed for them.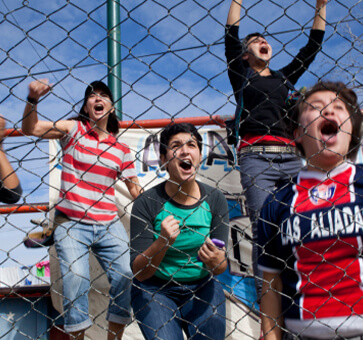 "Fútbol para todas" (Football for Everyone) Tournament
In 2014, the players organized this tournament completely on their own at the historic field called Güemes. So, working together, they managed to overcome the individualistic, sexist and opportunist dynamics that had monopolized the community tournaments until then.
"Mi Juego, mi Revolución" (My Game, My Revolution) One-day Tournaments
We've been holding one-day tournaments on our field since 2015, therefore solidifying the creation of networks and meeting points aimed at strengthening this sport activity and expanding it through meetings, discussions and debates.
TOGETHER AS A GROUP
TOGETHER AS A GROUP
TOGETHER AS A GROUP
TOGETHER AS A GROUP
TOGETHER AS A GROUP
TOGETHER AS A GROUP
TOGETHER AS A GROUP
TOGETHER AS A GROUP
All the organization processes are carried out by women and LGBTIQ+ people, therefore fostering the leadership of local girls and young women.
Festivals
Since 2015, we have been fostering the Latin American Festival of Feminist Football, which has taken place in several cities in Argentina.
Coordinating association
The workshop called "Fútbol y feminismo" ("Football and feminism") organized during the National Meeting of Women (ENM, acronym in Spanish) gave rise to the "Coordinadora Sin Fronteras de Fútbol Feminista" (Without Borders Coordinating Association of Feminist Football), which brings together different clubs and spaces for feminist activism both nationally and locally.
Meetings
Since the National Meeting of Women (ENM, acronym in Spanish) that took place in Salta in 2015, we've been proposing to be included in the feminist agenda as sportspeople. By using public space and creating fields to play and reflect, in 2018 we managed to add the workshop called "Fútbol y feminismo" ("Football and feminism") to the list of ENM's official workshops.
Our own theory
Since 2014, we have been under a collective process of theoretical and methodological reflection that allows us to think about our own practices. This derived in a systematization process which led to the creation of the document called "Systematization of a Feminist Football Experience in Villa 31".

We aim to position, both in society as a whole and in hegemonic feminism in particular, an intersectional perspective to discuss the transforming and dissident power of feminist sport with a critical eye from a community point of view.